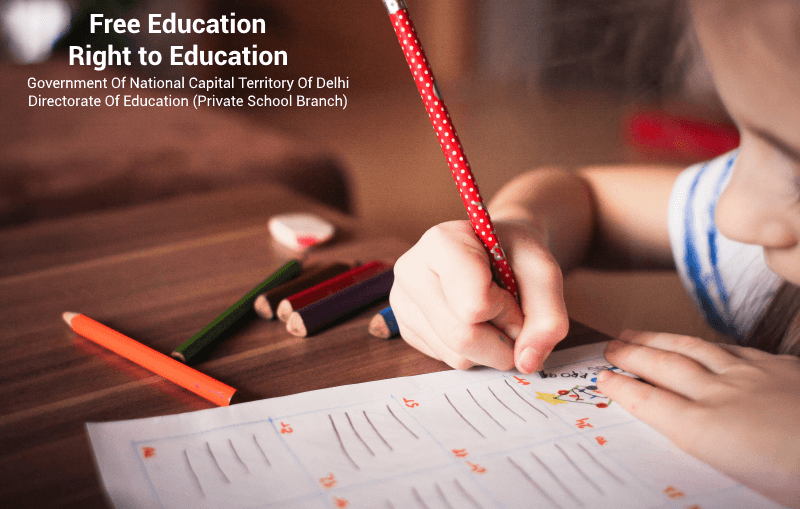 Government Of National Capital Territory Of Delhi
Directorate Of Education (Private School Branch)
Old Secretariat : Delhi-110054
Admission Schedule for Entry Level Classes (below six years of age) for open seats in Private Unaided Recognized Schools of Delhi for the session 2019-20
Upper Age limit:
Government of NCT has set upper age limit for Kindergarten and Class 1 admissions.
1. Upper Age limit for Nurser admissions is: Less than four years (4 years)
2. Upper age limit for Kindergarten applicants: Less than Five years (5 years)
3. Upper Age limit for admissions in Class 1 is: Less than Six years (6 years)
All Private Unaided Recognized Schools admitting children in pre-school, pre-primary and/or Class-I level shall reserve 25% seats for EWS/DG category students & Child with Disability as defined in RPWD Act, 2016 (under Section 12(1)(c) of Right to Education Act, 2009) at Entry Level Classes.
Admission Form:
Each School will make admission forms available to all applicants till the last date of submission of admissions application form i.e. 017/01/2019 by charging a Non-refundable Rs.25/- only.
All Government, Private unaided recognized schools should abide by the notification dated 28/02/2012 which directs that the number of seats at the entry level/s shall not be less than the highest number of seats in the entry level classes during the last three years 2016-17, 2017-18 & 2018-19. The details of all entry level classes (i.e. Nursery/KG/1st) along with the seats available for admission must be declared by all schools on the module to this directorate's website as well as on their notice board/website and hard copy in Format-1 duly signed by head of the school concerned shall be furnished to the DDE concerned by 31/12/2018 positively. DDE (District) will compare the seats declared online vis-a-vis the hard copy submitted under the signature of Head of the school by 11/01/2019.
Directorate of education has instructed all private schools to upload their criteria (with points for each criterion) for admission in open seats on its official website by December 14 2018
Admission Schedule:
First List of selected children will be out on 4th Feb 2019
Second list of selected children will be out on 21st Feb 2019
Admission for Nursery/Kindergarten/Class 1 will conclude on 31st March 2019
Sl. No.
Particulars
Time Schedule
1.
Uploading the criteria and their points in the module of the Department at the link mentioned at point No. 7
14/12/2018 (Friday)
2.
Commencement of admission process and availability of forms
15/12/2018 (Saturday)
3.
Last date of submission of application forms in schools
07/01/2019 (Monday)
4.
Uploading details of children who applied to the school for admission under Open Seats
21/01/2019 (Monday)
5.
Uploading marks (as per point system) given to each of the children who applied for admission under open seats
28/01/2019 (Monday)
6.
The date for displaying the first list of selected children (including. Waiting List)

(along with marks allotted under point system)

04/02/2019( Monday)
7.
Resolution of queries of parents, if any (by written/email/ verbal interaction) regarding allotment of points to their wards in the first list.
05/02/2019 to 12/02/2019
8.
The date for displaying the second list of children (If any) (including Waiting list)

(along with marks allotted under point system)

21/02/2019 (Thursday)
9.
Resolution of queries of parents, if any (by written/email/ verbal interaction) regarding allotment of points to their wards in the second list
22/02/2019 to 28/02/2019
10.
Subsequent list of admission, if any
15/03/2019 (Friday)
11.
Closure of admission process
31/03/2019 (Sunday)
For Details visit Directorate of Education, GNCT Delhi Website: http://www.edudel.nic.in/