RTE Karnataka Admissions 2022-23, Application Status, Last Date, Eligibility, Required Documents, RTE 2nd round results
RTE Karnataka 2022-23 is a process in which Government of Karnataka reserves some percentage of seats in Government, Govt. aided schools as well as private schools under RTE Act, the Right to Education Act (RTE) is an Act of Parliament of India enacted on 24th August 2009, Right to education has been recognized as a basic human right in a number of international conventions. The RTE act describes the modalities of the importance of free and compulsory education for children between the age group of 3 years and 5 months and 14 years in India under Article 21a of the Indian Constitution.
Karnataka RTE 2022-23 Updates (04/04/2022)

Admission under RTE 2022-23 circular details
| Activities | Date |
| --- | --- |
| 2022-23 School Admission under RTE notification | |
| RTE Enrollment Video conversation program | |
| | |
| Government, Aided and other schools, list publication | |
| To file objections to neighborhood schools | |
| Final list of neighborhood schools and no. of seats available for 1st standard, will be available in district official website or office notice board | 01-02-2022 and 02-02-2022 |
| | 01-02-2022 and 02-02-2022 |
| Parents Seeking admission of Aided schools, the date set for submission of online application is | 03-02-2022 to 03-03-2022 (Extended:15-03-2022 ) |
| Submission of application through EID, verification of data and validity | Extended: 04-02-2022 to 18-03-2022 |
| Special categories and unorganized application verification date | Extended: 04-02-2022 to 18-03-2022 |
| Processing of candidate through Lottery, final list publication | |
| | |
| Starting of Admission in Schools | Extended to 05-04-2022 to 06-04-2022 |
| 2nd Allocation of seats by online mode | |
| Seats allotted in 2nd list distribution, final date of admission in school | Extended to 05-05-2022 to 16-05-2022 |
| Children's Enrolled in Second round in schools Incorporate the details into the software | Extended to 05-05-2022 to 16-05-2022 |
Students should be permanent residents of Karnataka state.
For Admission to LKG Age (Date of birth) range Required from 01-08-2017 to 01-08-2018 (Age should be between 3 years 5 months to 5 years)
For Admission to Ist Std./ Grade-I children Date of birth should be between 01-08-2015 to 01-08-2016 (5 years 5 months to 7 years)
Family income should not exceed more than 3.5 lakhs from all the sources. (Check Sample Income Certificate).
Children who belong to a weaker sections and backward communities of society.
Priority is given to children who belong to a disadvantaged group of society like Orphans, HIV affected/Infected Child, Transgender, Child with special needs, Migrant and street child, Farmers Child who committed suicide.

Government Employees can also apply for RTE admission
Check age Eligibility for RTE 2022
These are the Steps to Check for RTE Eligibility 2022
Please visit: https://www.freshershome.com/rte-age-eligibility.php
Chose the Date of birth of your child
Select your total family annual income.
Select your Caste group/Category.
Click on Check Eligibility button, the page will display whether you are eligible for RTE admission or not.
RTE 2022-23 Age Requirement
LKG Admissions Age Should be Between: Age Between 3 years 5 months – 5 years
1st Std. Admission Date of birth(DOB) Should be Between: Age Between 5 years 5 months to 7 years
Date of birth between:
For LKG DOB Between: 01/06/2017 – 01/-1/2019
For Class 1 DOB Between: 01/06/2015 – 01/01/2017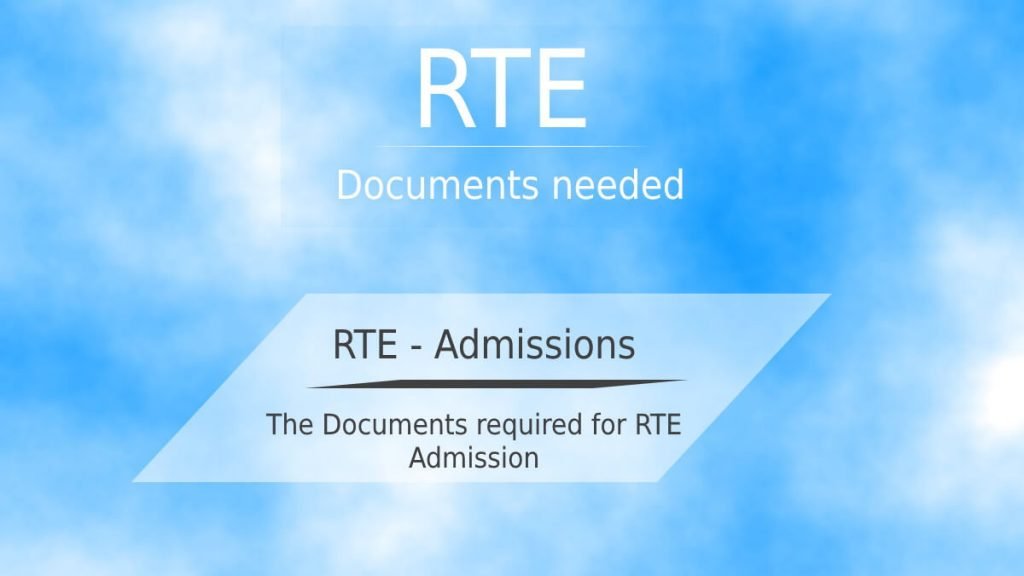 Documents Required for RTE 2022
Applicant Aadhaar Card (If Aadhaar card not available then Aadhaar card applied application no. i.e Enrollment number)
Birth Certificate (For Age Eligibility Click here to check age Eligibility)
Income and Caste Certificate issued by a competent authority.
Parents i.e Either Father's or Mother's Aadhaar Card
Government Approved Address Proof. Such as Aadhaar chard/Driving License/ Ration Card/ Bank passbook/ Passport/ Voter ID etc.
RTE Karnataka 2022 Notification
The RTE 2022-23 Notification has been published by the Department of Public Instructions, government of Karnataka: Click below to download/view the notification for the Academic year 2022-23 school admission.
The 2022-23 Notification will be published here, once it is made available!
Check Area wise Schools list
To apply for RTE Karnataka 2022-23 admission please follow these steps
STEP 1: Interested Applicants should visit the official website (Click Here: http://www.schooleducation.kar.nic.in/pryedn/rteadmissions.html)
STEP 2: One time Registration to get your application number registered on the system. The application number and password will be communicated on your registered mobile.
STEP 3: After Getting your application number log in your account Enter child details and parent details.
STEP 4: Locate the address accurately to list schools within 1 KM and within 1-3 KM range from your house.
STEP 5: When the School is selected now select the required standard.
STEP 6: Upload the required documents and Confirm the application.
STEP 7: When final submission completed successfully, take the printed application along with the required documents for your future reference.
Where to Apply for RTE 2022-23 (03.02.2022 to 03.03.2022 (Extended to 16-04-2022))

Apply online at Education Department Website (Opens in New Tab/Window)
Education Department deputy director Office
Bengaluru One
The One
Education Office
Atalji Cozy Center
Notification Karnataka RTE 2022-23
2022-23 RTE School Admission process notification date: 07.01.2022 (Notification here)
Below is the scheduled timetable for application submission:
Application submission trial: 01.02.2022 and 02.02.20212
Application submission to EID: 04.02.2022 to 07.03.2022
Deadline for parents seeking online application: 03.02.2022 to 03.03.2022 (Extended up to 20.04.2021)
The final list of eligible candidates publication for lottery process: 14.03.2022
First Round Through Online software Seat allocation: 23.03.2022
Enrollment in Schools: 24.03.2022 to 04.04.2022
RTE Karnataka Help Line Number And Official Website
The RTE Helpline numbers are:
1800-425-34567
080-2248716
Address:
New Public Office Near-RBI, Nrupathunga Rd, Sampangi Rama Nagar, Ambedkar Veedhi, Bengaluru-560001
Official RTE Website: http://schooleducation.kar.nic.in/pryedn/rteadmissions.html