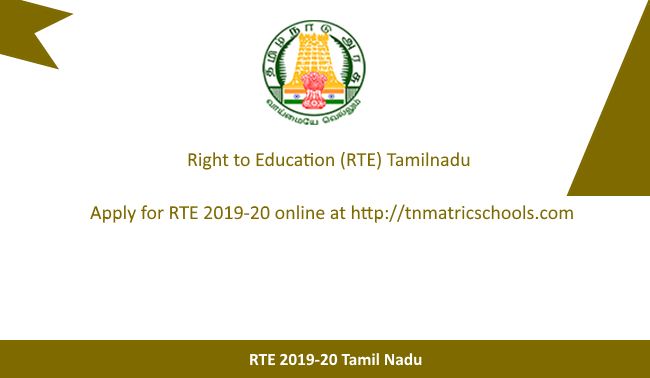 Applications for RTE 2019-20 Tamilnadu eligibility, How to apply. Interested parents who wish to admit their ward into LKG or 1st std. Under Section 12 (1) (C) of Children Free and Compulsory Education Act, 2009, the application form for all eligible minority private self-financing schools and the admission requirement of 25% reservation in the entry class for children of the weaker sections.
Tamil Nadu School Education Department, The Right to Children to Free and Compulsory Education Act, 2009 provides free and compulsory education to all children's of age of 6 years to 14 years, enacted by Parliament of India.
Right to Education (RTE) Tamilnadu invites applications for admission through RTE act. 2009, from parents who belong to weaker section (EWS) as per the norms of RTE Act., Parents can apply to Government Schools, Government Aided Schools and Private schools under RTE.
The Official Website of RTE Tamilnadu is: http://tnmatricschools.com/
Eligibility:
Candidates belong to SC/ST/ Parents who earn less than INR 100,000/- p.a/ PWD candidates/ Widows/ BPL Card holders.
Parents can apply for RTE 2019-20 online at http://tnmatricschools.com
How to Apply online for RTE Tamilnadu 2019-20:
Please visit the Website: http://tnmatricschools.com
Visit the RTE Login page: http://tnmatricschools.com/rte/home.aspx
Look for RTE 2019-20 Admission online application.
Click on RTE 2019-20 Admissions.
Fill the Registration form, and submit the documents with required documents.
Confirm the RTE 2019-20 Tamilnadu online application.
Take a printout of the submitted application of RTE 2019-20 Tamil Nadu.