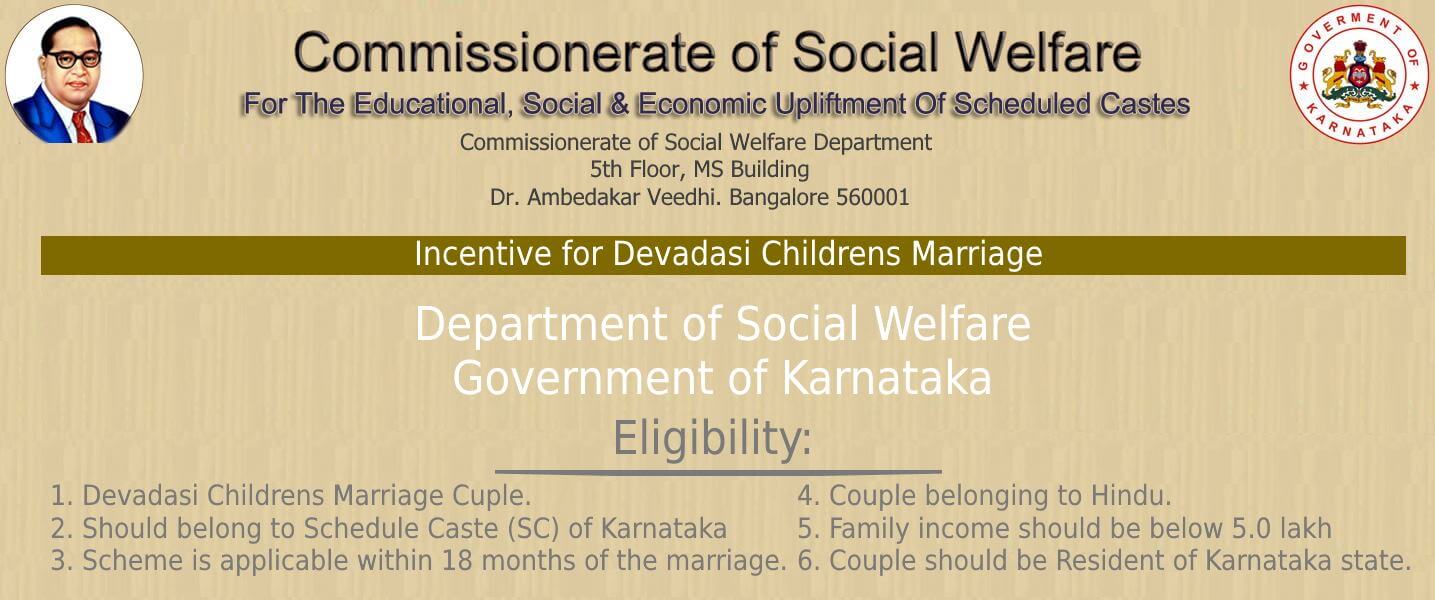 Social Welfare Department, Government of Karnataka Offers incentives for Devadasi Children's Marriage couple of Karnataka state
Objective of Devadasi Children's Marriage Incentive
Objective of incentive to Devadasi Children's is to Schedule Caste (SC) individual residing in the state of Karnataka to reduce casteism and promote a more accepting society. The incentive is given to a Schedule Caste (SC) resident of Karnataka, who marries a Hindu Non SC individual (or) Hindu SC individual and where the total income of the couple is less than Rs. 5.0 lakhs.
Eligibility
Devadasi Children's Marriage Couple.
Should belong to Schedule Caste (SC) of Karnataka
Scheme is applicable within 18 months of the marriage.
Couple belonging to Hindu.
Family income should be below 5.0 lakh
Couple should be Resident of Karnataka state
Couple should submit the application within 1.5 years (18 months) of their marriage to claim incentives.
Couples marriage on or after 01.04.2018 are eligible for revised rate of incentive (i.e 3.00 lakh for Men and 5.0 Lakh for Women)
Steps For Registration of application for the scheme
Step 1: Visit https://sw.kar.nic.in
Step 2: Register using your Aadhaar card, providing all information.
Step 3: Applicant will receive an sms, applicant can print the acknowledgement form as proof of application.
Documents required for Devadasi Children's Marriage Scheme
Aadhaar Number
Caste certificate number (15 digit RD number)
Income Certificate number (15 digit RD number)
Marriage Proof- Scanned image of marriage registration certificate.
Marriage Photo.
Mobile number, current active mobile number.
Devadasi Registration certificate.
Contact Address & Helpline
Department of Social Welfare of the Commissionerate,
5th Floor, MS Building, Dr. Ambedakar Veedhi, Bengaluru-560001
Help-Line 24X7
Phone: 9008400078/080-22634300 9480843005/080-22340956
Email: [email protected]