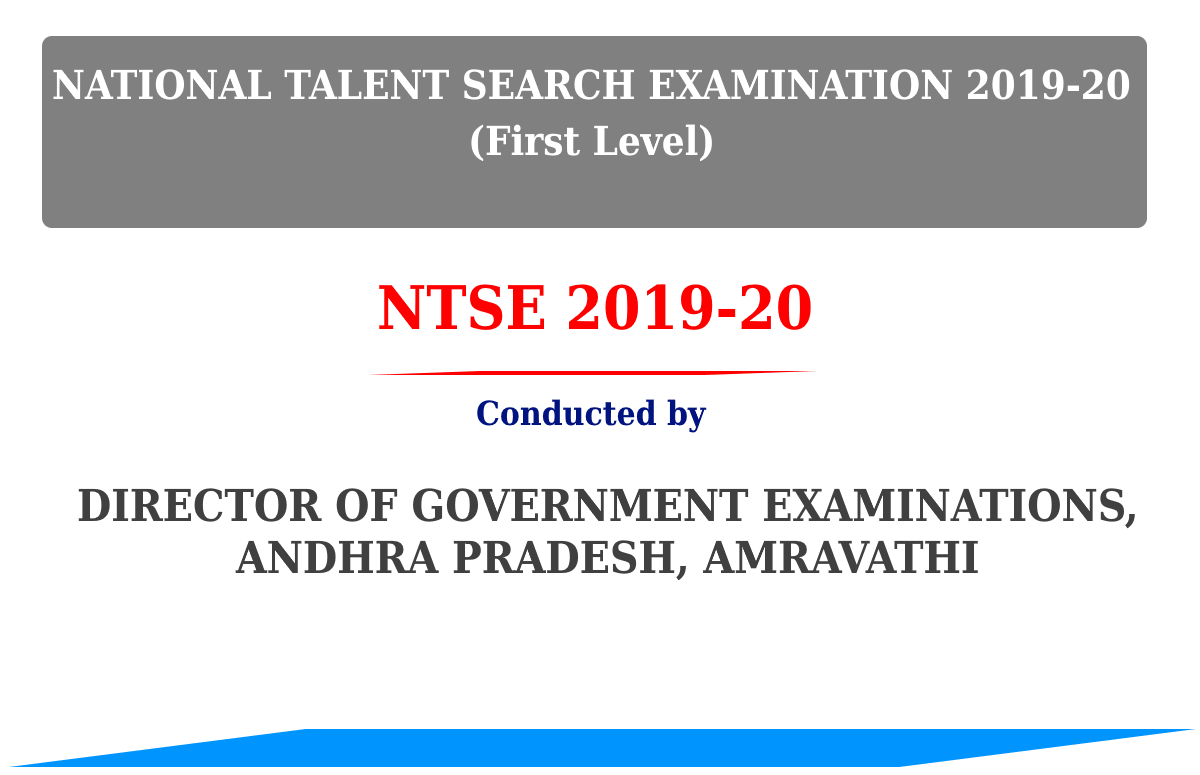 Directorate of Government Examinations, A.P., Vijayawada conducts National Talent Search Examination (First Level) as per directions of NCERT, New Delhi every year in the month of November along with NMMS Examination.
---
Scholarship Award
Scholarship Rs.1250/- per month for Class XI to XII
Scholarship Rs.2000/- per month for Under graduates and Post-Graduates
Scholarship Amount for PhD is fixed in accordance with the UGC Norms.

Scholarship will be paid by the NCERT, New Delhi
Students in the state who are studying X Standard in any of the recognized schools can write the examination.
The number of scholarships will be allocated by NCERT every year. The candidates will be selected to the Second Level basing on the merit and as per the reservation norms given by NCERT.
---
No. of scholarships
2000 candidates every year are being selected in Second Level Examination all over the country
---
Pattern of Examination
| | |
| --- | --- |
| Sl No. | Test Type |
| 1 | Mental Ability Test (MAT) |
| 2 | Scholastic Aptitude Test (SAT) |
---
| | | | |
| --- | --- | --- | --- |
| Paper | Maximum Marks | No. of Questions | Duration |
| Paper I | 100 | 100 | 120 |
| Paper II | 100 | 100 | 120 |
---
Subject Wise Marks
| | |
| --- | --- |
| Subject | Marks |
| Physics | 13 |
| Chemistry | 13 |
| Biology | 14 |
| Mathematics | 20 |
| History | 12 |
| Geography | 12 |
| Pol. Science | 8 |
| Economics | 8 |
---
Important Dates
a) Application online submission from: 05-08-2019
b) Payment may be made from: 05-08-2019
c) Last date for Upload the candidates application by the concerned Head Master: 05-09-2019
d) Last date for payment of fee: 07-09-2019
e) Last date for submission of printed Nominal Rolls along with other enclosures in the O/o. The District Educational Office concerned by the School (HMs/Principals/Correspondent): 10-09-2019
f) Last date for submission of Printed Nominal Rolls along with the fee receipts by the concerned DEO's to O/o. The Director of Government Examinations, A.P. Vijayawada.: 13-09-2019
---
How To Fill the Application Form
Step 1: Open www.bseap.org, then you can find the following web page. Select NTSE (Rounded in red color)
Step 2: Click on NTSE in the web page
Step 3: Click on NTSE Online Application Form
Step 4: For first time registration, click on "New School Registration" and fill all the columns carefully and click on "Create School". After successful registration of the school, reopen the NTSE login page and enter "SSC School Code" and Password for the schools running under the control of State Government. For NVS, KVS, CBSE, ICSE and other than the school running not under control of State Government, they have to enter their Affiliation Code as school code and it will be treated as password.
Step 5: Fill all the columns in the application and upload the photo with signature by click on Browse button. (The photo with signature file size should be less than 30KB and format should be JPEG) and click on Submit Application button. Enter all the candidates details one by one. After completion of uploading the applications of all candidates, click on Report button to ensure all the candidates details are entered or not.
Payment of NTSE FEE
Step 6: Click on "NTSE Payment" button to pay the examination fee through CFMS. Payment should be made through CFMS only.
Step 7:(a) If you click on NTSE Payment button
(b) Select the candidates for whom you want to pay the examination fee and then click on Proceed Payment.
(c) Enter Head Masters details (Only for identification) and click on "Submit & Check Payment" for payment of the examinations.
Then the screen appears with the details of Payment Reference ID, "Number of candidates applications submitted" and "Total Amount paid by the Head Master".
(d) Then click on "Proceed for Payment".
(e) Click on "SBI" for payment through "Online"
Step 8: After successful payment only, a Transaction ID will be posted into the Nominal Roll. No Challan Receipt will be available for print.
Step 9: If any transaction is pending/unsuccessful after payment made by the concerned school Head Master/Principal/Correspondent shall inform to the DGE office land line number i.e., 0866-2974530
Step 10: Submit the Printed Nominal Rolls of the school/institution along with the enclosures relating to Caste certificates, PH Category certificates (if PH Category), EWS (Economically Weaker Section i.e., OC category with below 8 lakh income from all sources of both parents) certificates in concerned DEOs office as per schedule given in the notification.
---
For online applications and details click here