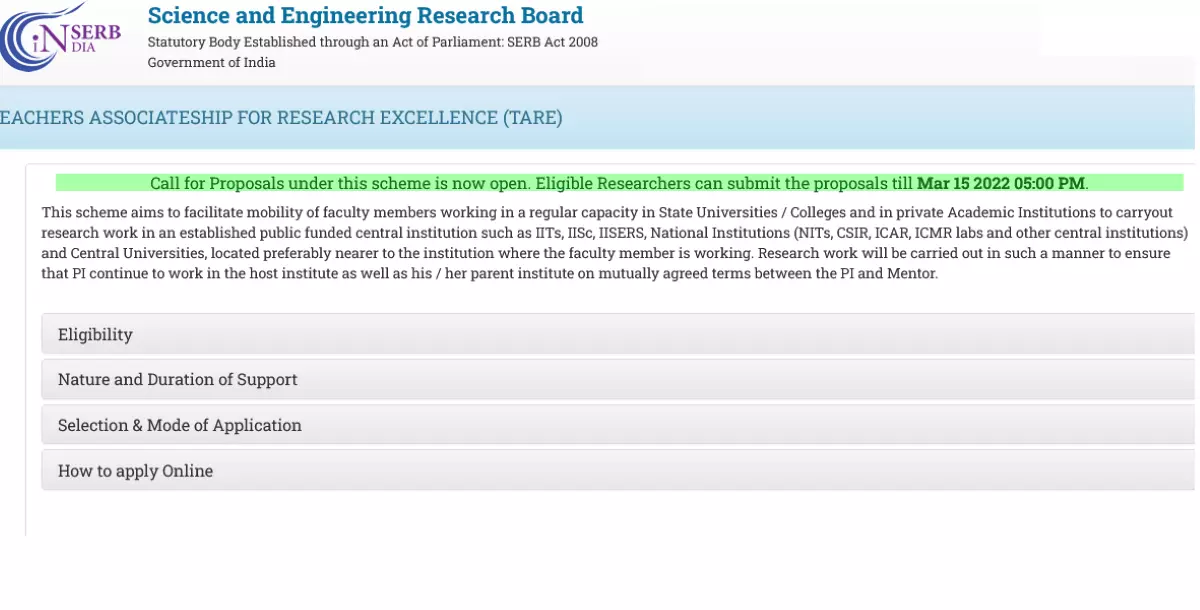 Teachers Associateship for Research Excellence (TARE
Call for Proposals under this scheme is now open, scheme aims to facilitate mobility of faculty members working in a regular capacity in State Universities / Colleges and in private Academic Institutions to carryout research work in an established public funded central institution such as IITs, IISc, IISERS, National Institutions (NITs, CSIR, ICAR, ICMR labs and other central institutions) and Central Universities, located preferably nearer to the institution where the faculty member is working
Indian citizen residing in India holding Ph.D. degree in Science / Engineering or MS / MD in Medicine are eligible to apply.
The applicant(s) must hold a regular academic / research position in State Universities/ Colleges and private Academic Institutions.
Applicant should not hold any ongoing research projects or any fellowship at the time of submission of application.
The upper age limit for the award is 45 years at the time of the submission of application. Age relaxation of 5 (five) years will be given to candidates belonging to SC/ST/OBC/Physically Challenged & Women candidates.
Mentor should be at the level of Associate Professor/Scientist E, or higher level.
Only one candidate will be allowed to work with a mentor at any given point of time.
Price: 60,000 per annum and other benefits
The call for proposals will be notified through the website www.serbonline.in and www.serb.gov.in
The proposals will be evaluated through peer review processes as per SERB guidelines.