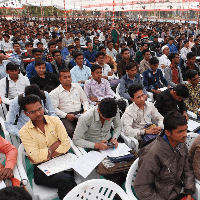 Gujarat Job Fairs 1 Lakh plus candidates get offers
Popular Gujarat Job Fairs
The Mega job fairs in Gujarat have attracted many candidates and a huge number of them have received offers, the week long job fair witnessed overwhelming response from 142,970 candidates who participated in the job fair out of which 109,520 of them were selected as per PTI report, the job fairs were organized by the State Government across 12 clusters (Rajkot, Bhavangar, Bharuch, Surat, Vadodara, Ahmedabad, Godhra, Jamnagar, Morbi, Vapi, Mehsana and Gandhidham) covering 33 districts.
Job Fairs Were held:
Job fairs were held from 11th Feb to 17th February 2017, and 2184 recruiters/employer/ job providers had come to the job fair which also included some multinational companies.
As per PTI report the figures mentioned, majority participants were Males (88503 males) and (21017 female participants) took part in the job fairs.
Candidates had the opportunity to apply for top MNC companies in the leading industries, such as L&T Limited, Ford India Limited, Suzuki Motors Gujarat Pvt. Ltd., Honda Motors, Tata Motors, Vodafone, Pepsico, Adena Power, Essar Power, Reliance Industries, Welspun India Ltd., Arvind Mills, Sandhi Cement, Ambuja Cement, Eureka Forbes, Torrent Power, Tata Chemicals, Syntex Pvt. Ltd. and Aegis Limited, and the above companies selected candidates as per the requirements.
Municipal corporation and other industrial units hired total of 5,555 apprentices.
Jobs were available for Engineers, Customer Care Representatives, Skilled/Semi skilled workers, Supervisors and others.
144 Differently abled candidates bagged job as well. Many candidates from Weaker section such as SC, ST and SEBC secure jobs.
Top Recruiters/Companies were in the leading sectors like Automobiles, textiles, Engineering, construction, Pharmacy, food and beverages, power, cement, marketing/sales, banking, finance, hospitality, health care management and telecommunications.