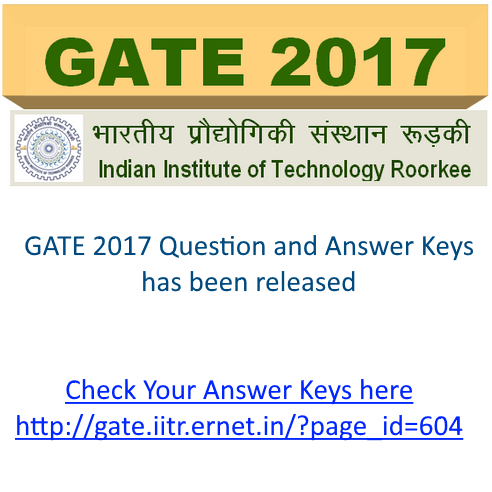 Graduate Aptitude Test in Engineering (GATE 2017) answer keys released
Graduate Aptitude Test in Engineering (GATE 2017 ) Answers keys are now available to download and view
GATE 2017 answer keys have been released candidates can obtain answer keys from official website of GATE, IIT Rookee was the exam conducting organisation, and it has released GATE 2017 answers keys, for each respective paper.
GATE 2017 results will be announced on 27th March 2017. For more details on this please visit the official website where this notification is released.
The Official Website of GATE: http://gate.iitr.ernet.in (Please click on 2017 Gate Question papers and Answers) One can download all answers from all papers or Just Download the paper that one has appeared for.
Candidates can view their response for GATE 2017 Question Paper by login to : http://appsgate.iitr.ac.in/
Answer Keys released for following papers:
AE: Aerospace Engineering
AG: Agricultural Engineering
AR: Architecture and Planning
BT: Biotechnology
CE: Civil Engineering (CE01 CE02)
CH: Chemical Engineering
CS: Computer Sc. and Information Technology (CS01 CS02)
CY: Chemistry
EC: Electronics and Communication Engg. (EC01 EC02)
EE: Electrical Engineering (EE01 EE02)
EY: Ecology and Evolution
GG: Geology and Geophysics
IN: Instrumentation Engineering
MA: Mathematics
ME: Mechanical Engineering (ME01 ME02)
MN: Mining Engineering
MT: Metallurgical Engineering
PE: Petroleum Engineering
PH: Physics
PI: Production and Industrial Engineering
TF: Textile Engineering and Fibre Science
XE: Engineering Sciences (A-H)
XL: Life Sciences (P-U)