CBSE Class 12 (Class XII) 2017 results to be out by Sunday (28th May 2017) before Noon, Central Board of Secondary Education (CBSE) said in a notification on Friday, ending the suspense over the much-awaited results.
Central Board of Secondary Education (CBSE) will follow Delhi High Court Order and continue with moderation or grace marks policy this year, another sign of relief for students who appeared for the exams when the moderation policy was in place.
Students were anxious about the delay in result declaration, as it affects their college admission process. Students can now feel a sigh of relief with CBSE Agreeing to continue with grace marks policy as per Delhi High Court Order.
Total of 10, 98, 891 candidates from 10,768 schools registered for exams, which is a 2.82 percent point increase from that of 2016, CBSE Class XII exams were conducted on March 9th 2017 to April 29th 2017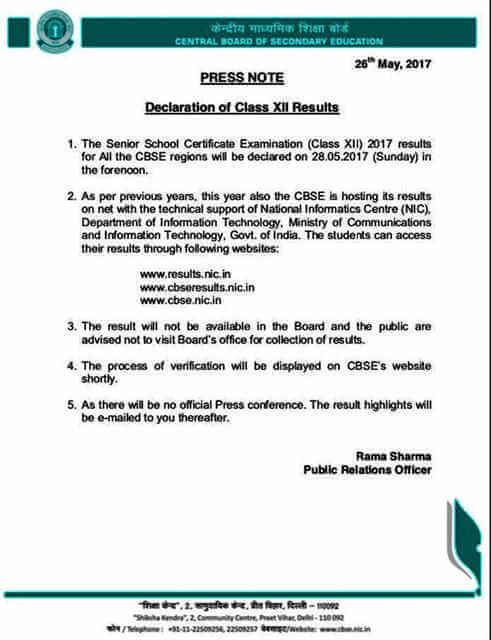 CBSE is hosting results on internet with technical support from National Informatics Centre (NIC), Department of Information Technology, Ministry of communications and Information Technology, Govt. of India.
Students can Access their results through following websites:
1. www.results.nic.in
2. www.cbseresults.nic.in
3. www.cbse.nic.in
Verification process will be displayed on CBSE website shortly.