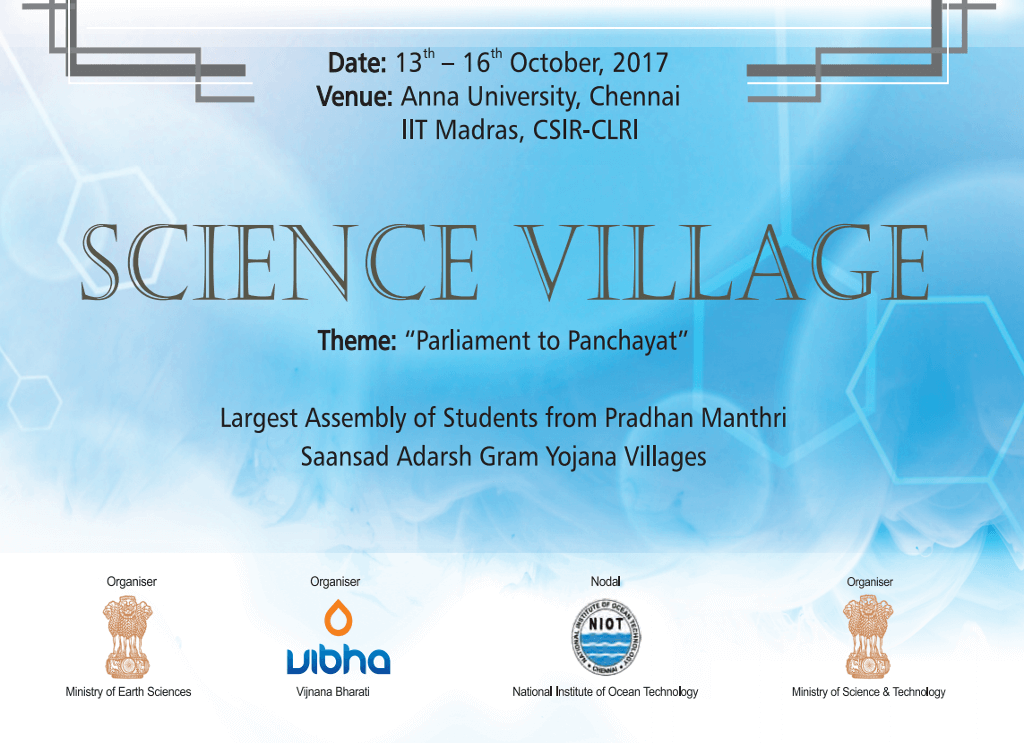 India International Science Festival will be held in the month of October 2017, the 3rd IISF(India International Science Festival) starts from 13-16 OCTOBER 2017
Venue: IIT Madras, Anna University, Chennai
CSIR-CLRI,CSIR-SERC, NIOT
India International Science Festival (IISF) is an integral part of India's long term vision in developing and widening the spectrum of scientific temper for sustainable development and new technological innovations in India and abroad.
The prime objective of the festival is to instill scientific temper among masses and showcasing Indian contribution in the feld of S&T over the years. It aims to build a strategy for rural India through the advancement of Science and Technology. Moreover, it also aims to provide a platform to young students, scientists and technocrats from across India for the exchange of knowledge & ideas and also supporting government's ?agship programs like 'Swach Bharat Abhiyan', 'Make in India','Digital India', 'Smart Villages',etc initiated by the Hon'ble Prime Minister. Further, the science festival also intends to make innovation useful for the people and develop technology that is affordable to the masses.
Science Village – 2017 is set to repeat the success and make a much greater attempt to reach out to the rural masses and propagate science to the extent of seeking scientific solutions to the diverse challenges facing our society, particularly the rural part of India. Students will undergo unique activities that shall cultivate scientific temper and encourage interest towards science.
The prime goal of science village is to give exposure to the students from rural India and make them aware of India's achievements in frontier areas of science & technology. The Science Village program is linked with the PradhanManthriSansadAdarsh Gram Yojana* through which each Member of Parliament will nominate 5 students and 1 teacher from their adopted village. The nominated students will be from class 9th – 11th standard. The expected student delegates this time are around 3000. It will be a lifetime opportunity for them to be a part of such a mega event under a single roof. Each participating student and teacher will get an opportunity:
To visit Mega Science Expo: – An exhibition showcasing India's achievements in Science and Technology by
various Ministries, Departments and Institutions of the Government of India.
To have interactions with eminent scientists from India.
To visit Indian Institute of Technology, and other R&D laboratories in Chennai.
To interact with representatives from various Government Departments.
To be a part of live hands on science activities conducted by science communicators
To watch science flms.
To see celestial objects through telescope in night sky watch programme.
For details visit: https://scienceindiafest.org/