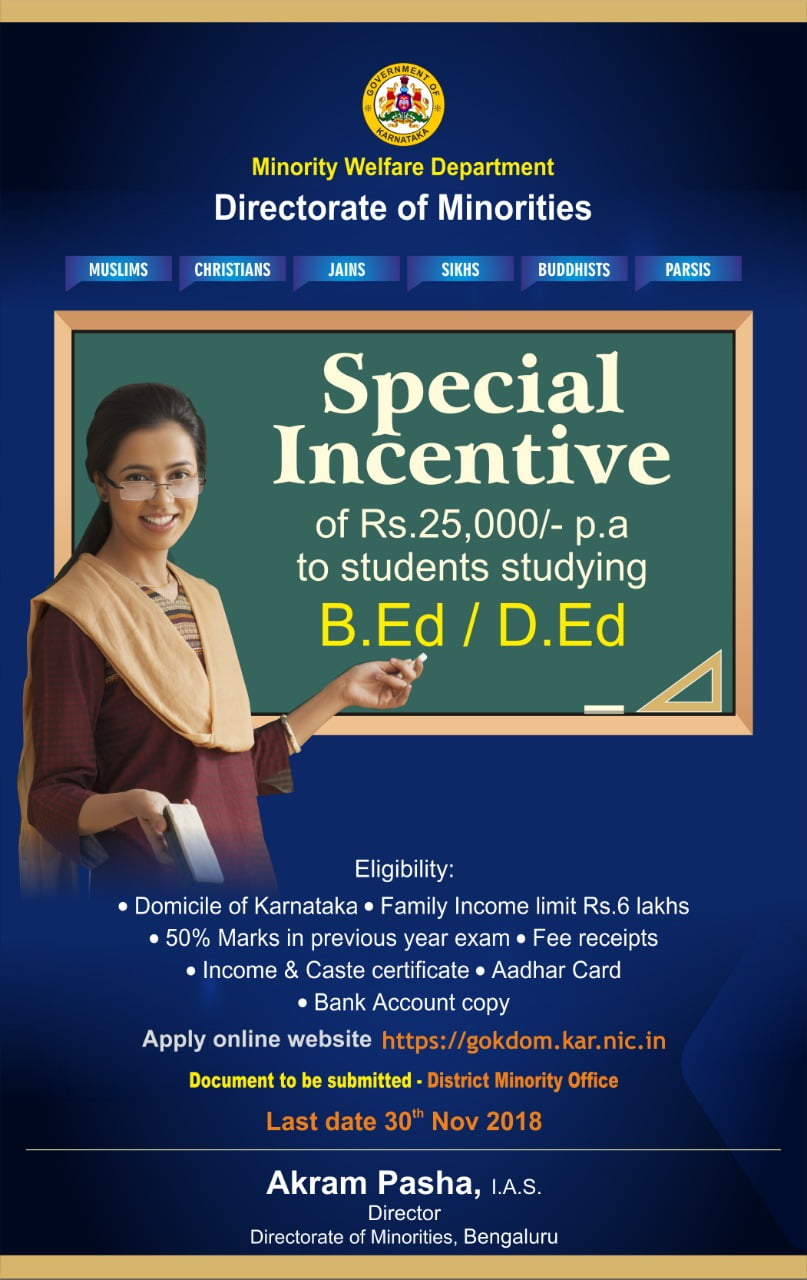 Government Of Karnataka
Minority Welfare Department
Directorate Of Minorities
20th & 21st Floor, V.v.towers, Dr.b.r.ambedkar Veedhi,
Bengaluru-560 001
Minority Welfare Department, Directorate of Minorities, Government of Karnataka is giving Special Incentive of Rs.25,000/- p.a to Students who are studying B.Ed/D.Ed

Students who have joined B.Ed. & D.Ed. courses and Studying during the academic year 2018-19 in government/Semi-Government/Subsidized & private colleges are eligible to apply for this scheme, Special Incentive Amount of Rs25,000/-P.A will be provided for each year
2019-20 Incentives for Minority students Enrolled in B.Ed/D.Ed Courses Click here for Eligibility, Application details, last date.

Applications for Special Incentive are invited from students belonging
to Minority Community (Muslim, Christian, Jain, Sikh, Buddhist and
parsi) who are pursuing B.Ed. & D.Ed. Courses which should be
Accredited from National Council for teacher Education & Department
of State Educational Research and Training Respectively.

Eligible students must Register their Candidature Online only & submit the print out of online Application Form along with the required documents at District Minority Welfare Office of the concerned district
Eligibility:
Domicile of Karnataka
Candidate should not be a State/Central Government Employee or full time employee in private organisation.
Only the Candidate who are pursuing B.Ed. or D.Ed. course as full time or on Regular basis are eligible to apply, part-time courses not eligible
Student should belong to Minority Community.

Family Income limit Rs.6 lakhs
50% marks in previous year exam
Students must have cleared all previous examination without any backlogs & are selected based on merit i.e, marks scored in previous exams.
Submit all Fee records
Each year a separate application form should be submitted to avail incentives each year separately.
Income & Caste certificate
Aadhaar Card
Bank Account Copy.
Students who are studying B.Ed/D.Ed and Interested in obtaining the above special incentive of Rs.25,000/- p.a may apply online at http://gokdom.kar.nic.in
Documents should be submitted at: District Minority Office
Last date for application/submission of documents is: 30-11-2018