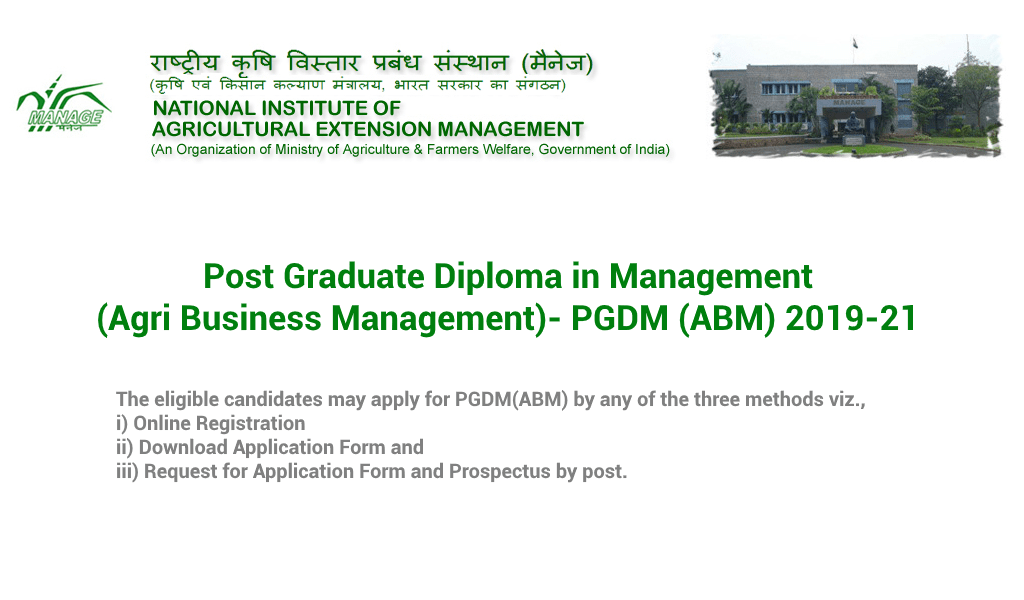 Post Graduate Diploma in Management
(Agri Business Management)- PGDM (ABM)
Rajendranagar, Hyderabad-500030
National Institute of Agricultural Extension Management (MANAGE), Hyderabad offers a two year PG Diploma in Management (Agri Business Management) – PGDM(ABM) recognised by AICTE.
The applications for admission in its 24th batch are invited. The applicants to PGDM(ABM) must read the admission notification and the admission policy available on this website.
Eligibility: Min. Qualification for admission is a Bachelors Degree from a recognized university or institution with 50% marks or equivaelnt CGPA in agricultural and allied sciences or any other discipline.
Details such as eligibility, selection criteria, reservation, application, procedure for online application etc., are available on MANAGE website www.manage.gov.in
The eligible candidates may apply for PGDM(ABM) by any of the three methods viz.,
i) Online Registration
ii) Download Application Form and
iii) Request for Application Form and Prospectus by post.
For Further details please Visit here: http://www.manage.gov.in/admissions-2019/admissions.asp
Last date for receipt of Applications 31st-12-2018