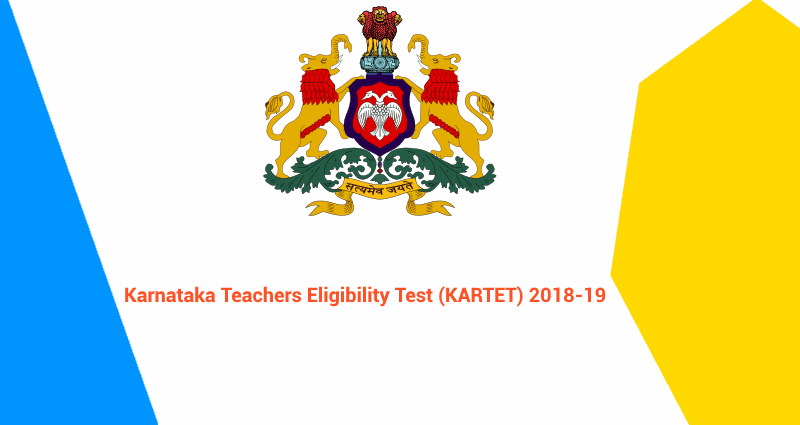 Government Karnataka
Teacher Eligibility Test (KARTET)-2018
Office Of The Commissioner For Public Instruction,
Centralised Admission Cell, Kempegowda Road, Central
Junior College Campus, Bangalore – 560009
The Govt. of Karnataka has entrusted the responsibility of conducting the Karnataka Teacher Eligibility Test (KARTET) to the Centralised Admission Cell (CAC), Office of the Commissioner of public instruction, Bangalore
What is TET?: Teacher eligibility test is a mandatory entrance examination required for anybody who wishes to become teacher in any school (Govt, Aided, and Private) for teaching in classes 1 to 8.

What is KARTET?: The TET conducted in Karnataka state in called KARTET. Govt. of Karnataka has entrusted Centralised Admission Cell (CAC) the responsibility of conducting KARTET.

Who can apply for KARTET: Those who have passed B.ed can apply for KARTET or those students who have passed 12th with minimum 50% marks and appearing in final year of 2 year diploma in Elementary education, Candidates with D.Ed qualification are also eligible.
KARTET is a minimum qualification for a person to be eligible for appointment as a teacher is as under:
It would bring national standards and benchmark teacher quality in the recruitment process.
It would induce teacher education institutions and students from these institutions to further improve their performance standards.
It would send a positive signal to all stakeholders that the Government lays special emphasis on teacher quality.
Steps to apply online:
Step 1: Candidates are advised to go through the instructions carefully before applying Online application through department website www.schooleducation.kar.in
Step 2: The particulars once filled by the candidate shall be final and will not be changed in future.
Step 3: Request for change/correction in any particulars in the Final Online Application shall not be entertained under any circumstances.
Step 4: The CAC will not be responsible for any consequences arising out of nonacceptance of any correction/addition/deletion in any of the particulars once filled in the Final Online Application Page whatever may be the reason.
Step 5: Fill in the Online Application Form with complete details through REGISTRATION and LOGIN
Step 6: Upload Scanned Images of Photograph and Signature.
Step 7: Payment can be made only on (or after) the next working day of registration.
Step 8: Select any one payment mode, Internet banking/Debit cards/ Credit cards/ cash for paying the Examination Fee.
Step 9: Fee once remitted shall not be refunded or adjusted in future tests under any circumstances.
Step 10: The Candidate particulars can be edited only before declaring the application.
Step 11: The candidates may download his/her application through department website www.schooleducation.kar.nic.in once the payment is successful by using candidates User Name and Password
Candidates can apply online for KARTET-2018 through department website www.schooleducation.kar.nic.in on or before 25/12/2018

Last Date Extended upto 31-12-2018
Frequently Asked Questions: