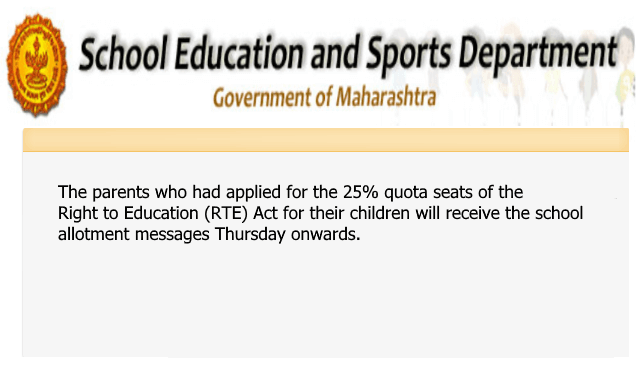 The Right to Education (RTE) school allotment will begin from Thursday, 11th April 2019, Parents who applied for 25% RTE quota seats receive messages from 10th April 2019, If Parents do not receive SMS messages please visit the official website of RTE Maharashtra.
Lottery drawn for the entire State of Maharashtra in Pune City On Monday 8th April 2019, at the Azam Campus, few parents were invited and they picked chits as a token to formally open the lottery system.
The lottery was drawn mainly for those schools that received more applications than the number of vacant seats. The education department received over 2.5 lakh applications this year for around 1.16 lakh seats in the state of Maharashtra.
Dinkar Temkar, the state in-charge of the admission process, said, "The computerized lottery system will send SMS to parents on their registered mobile numbers about the school allotted to their ward. The first round will have some per cent of allotments. All applications will not be allotted in the first round."

Dinkar Temkar
The parents who receive the message will have to confirm the admission at the allotted school on or before the last date that will be intimidated to parents, along with required documents. If there is no SMS till 10th April, go to the website and see whether the lottery has been written by applying the application form starting from 19 in the application wise details.
Please Visit https://student.maharashtra.gov.in/stud_db/users/login and also Check: https://student.maharashtra.gov.in/adm_portal/Users/rteindex For Lottery results and seat allotments.