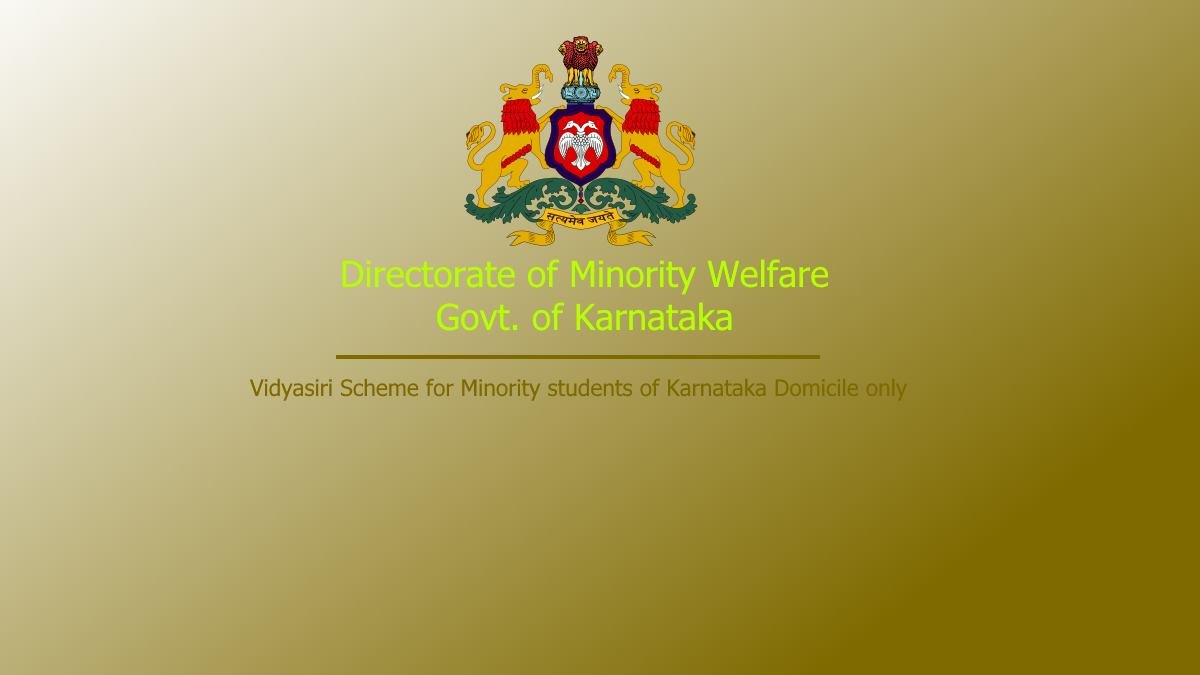 Food and Accommodation under Vidyasiri Scheme for Minority students of Karnataka Domicile only
Directorate of Minority Welfare
Govt. of Karnataka
20th and 21st Floor, VV Towers, Dr. B.R Ambedkar Veedhi, Bengaluru-560001
About Vidyasiri Scheme
Government of Karnataka through Vidyasiri Scheme for Minority students who are studying in Post-Matric Courses/PUC upto Ph.D.level in Government/Aided/Un-Aided institutions across the State Of Karnataka provides Food and Accommodation, who are not provided with Hostels facilities.
---
Benefits of Vidyasiri Scheme
Students who qualify for benefits under this Scheme will get Rs.15000/- per month for the education course period of 10 months, a total of Rs.15000/- (As available grant) under Vidyasiri scheme, towards lodge expenses to help them continue their education and this amount will be credited to the bank account of the student.
---
Eligibility for Vidyasiri Scheme
Student applying for This Scheme should be a domicile of Karnataka State.
The Annual in of Students applying for This Scheme should be less than Rs.2.00 Lakh
The Category-I and Converted Christian Minority students applying for Vidyasiri Scheme family income should be less than 2.50 Lakh only.
Students applying for This Scheme should be from rural areas
The Distance between college and their residence should be more than 5 Kilo meters (Km)
Applicants for this Scheme should have passed previous exam without any backlog.
Residence of BBMP, Town Municipal and corporation limit students are not eligible under This Scheme.
Students who are Staying in Hostels/Paying Guests (PG) Houses or any other accommodation also eligible under This Scheme.
---
Applications from suitable and interested students are invited to submit the applications for the above Scheme
Documents Required for Vidyasiri Scheme
Copy of Income Certificate and Caste Certificate.
A Aadhaar card/ Photo Copy.
A Voter Identity card.
A Ration card/ Photo Copy
A Copy of SSLC Marks card.
A Copy of Bank Pass book linked with UIDAI
How to Apply?
Students who are eligible and interested can follow the below steps for applying for this scheme
1: Students download the application form from Website(Vidyasiri scheme) and take a hard-copy (Print it)
2: Fill up the application form with all required fields.
3: The above required documents copies, attach them to the application form.
4: Submit the completed application form to District Minority Welfare Office, in the district where college is located. (For Detailed Address of District Minority office: Click Here)
Interested, eligible candidates can obtain the applications and submit them at the respective office of the District Minorities Welfare Department, the Last date for submission of applications under Vidyasiri Scheme for the year 2019-2020 is 39.11.2919