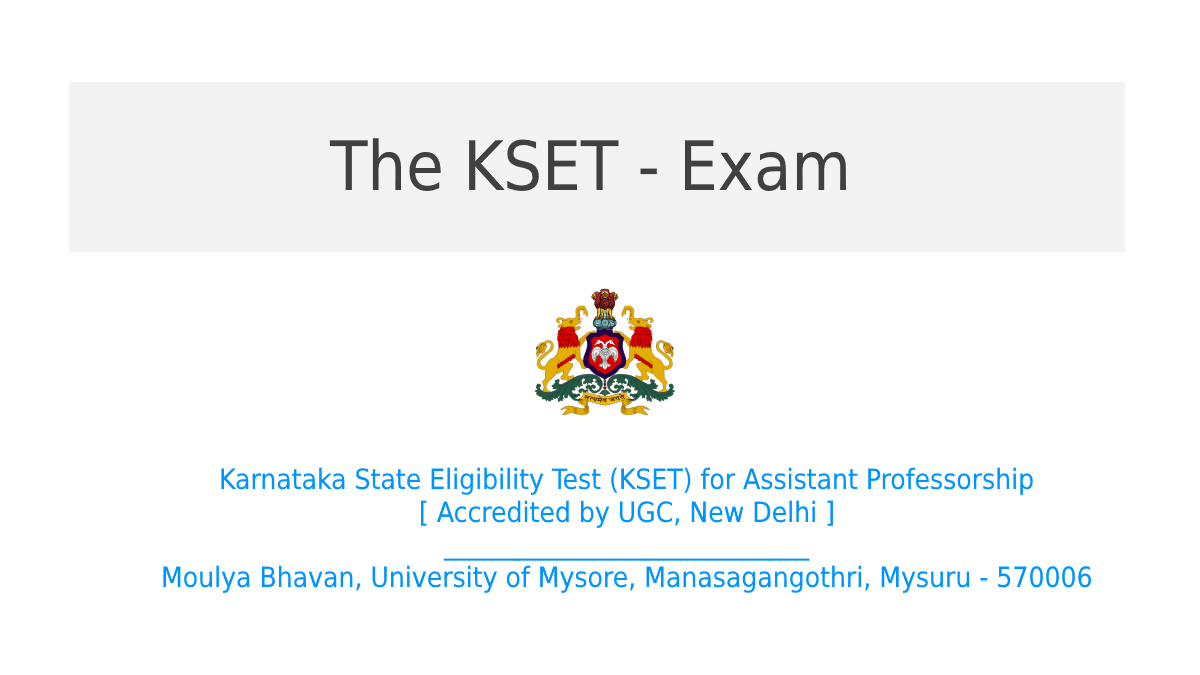 Bengaluru, Karnataka, The Karnataka State Eligibility Test (KSET) for the selection of Assistant Professors will be held on 11th April 2021. Registration for the exam has begun. Candidates can fill and submit the application forms available on the website till March 7th 2021. The option to submit the application forms will be open till March 13th 2021, with a late fee of Rs 250/-
KSET Exam date and Subjects
KSET will be held for 41 subjects at 11 nodal centres across Karnataka on 11th April 2021. Candidates who qualify the KSET – 2021 are governed by the recruitment rules and regulations stipulated for the post of Assistant Professors of concerned universities, colleges, institutions (government or aided or private) of Karnataka state.
Eligibility
Candidates who have secured at least 55% of marks in Master's Degree are eligible to appear for the exam.
Candidates who are pursuing their Master's degree or those who are awaiting the final result are eligible to apply.
The Ph.D. degree holders whose Masters level examination had been completed by 19th September, 1991 (irrespective of date of declaration of result), shall be eligible for a relaxation of 5% in aggregate marks (i.e. from 55% to 50%) for appearing in SET.
Candidates should note that their candidature is provisional. The mere fact that admission to the examination will not imply that the KSET center has finally accepted his/her candidature. Candidates may note that candidature will be deemed final only upon fulfilling of eligibility conditions.
There is no upper age limit to apply for KSET.
Candidate who became eligible in Previous KSETs are not eligible to apply again in the same subject. If any candidate found to be eligible in previous KSET tests and reappearing on same subject in current KSET, their candidature will be cancelled and the previous eligibility is withdrawn through de-notification, the exam notification reads.
Application fee
Application fee for general category candidates is Rs 1150/-, Rs.650/- for candidates belonging to Cat-I, SC,ST, PwD categories and Rs.950/- for the rest.
How to Apply
Candidates seeking admission to KSET 2021 must apply online http://kset.uni-mysore.ac.in
The online application system will not allow to upload files smaller/larger than the mentioned sizes.
Candidates Photograph: Before proceeding to apply, Candidates must possess scanned passport size photo in JPEG format (10 kb to 100 kb).
The same photograph is to be used for uploading on Online Application Form and also for pasting on Attendance Sheet at the examination center.
Candidate's Signature: The Scanned Signature must be between 5 kb to 30kb.The candidates are required to upload the full signature in running hand writing in the appropriate box given in the online application form. Writing full name in the box in Capital letters would not be accepted as signature and the Application Form would be rejected. Further, unsigned Online Application Forms will also be rejected.
The candidate should put his full signature on white paper with Black Ink pen and scan for uploading.
Candidate's Name / Mother's Name/ Father's Name:
Provide Candidate's Name, Mother's Name, Father's Name as given in the Secondary School Examination or equivalent Board/ University Certificate in Capital letters.
Date of Birth (dd/mm/yyyy):
Provide Candidate's date of birth as recorded in Secondary School Examination or equivalent Board / University Certificate
Mobile Number and e-mail Address:
Candidates must provide own Mobile Number and e-mail address. The e-mail id and mobile number that you enter in the registration form
Payments towards KSET fee including bank charges must be deposited to KSET account through KSET website or in any of the nearest State Bank of India branch.
After Two Working Days from the date of payment, candidates have to login with their email ID and password FOR DOWNLOADING THE APPLICATION FORM and can take the printout of the 3 sheets of application form (hard copy) in A-4 size paper as detailed below;
(1) Application form: to be submitted to the Nodal center chosen by the candidate.
(2) Attendance slips: to be submitted to the Nodal center chosen by the candidate.
(3) Admission card: to be retained by the candidate.
Candidates should compulsorily submit the hard copy of application along with attendance slip to the respective Nodal Centers. Application received after the last date will not be considered.
Printout of admission card should be retained by the candidate and bring on the day of examination. No admission card will be issued separately either by the Nodal centers or by KSET center. Candidates should compulsorily bring the valid Photo ID to the examination center without fail.