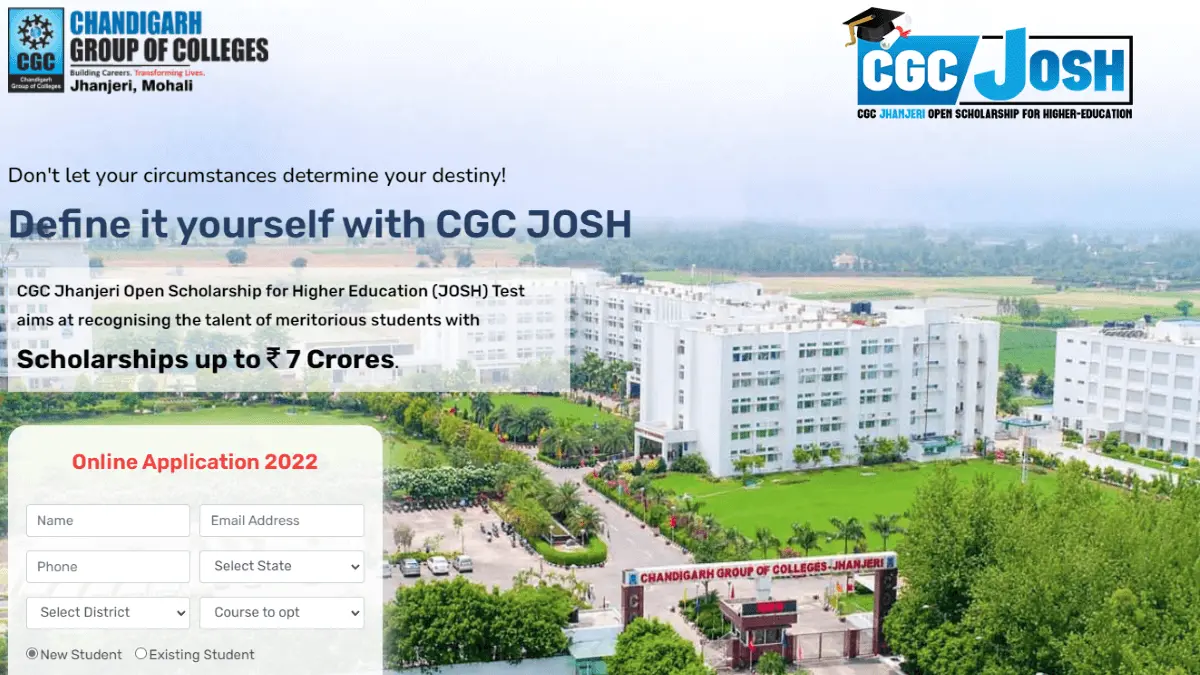 CGC Jhanjeri
Open
Scholarship for Higher Education.
The CGC Jhanjeri Open Scholarship for Higher Education (JOSH) Test recognises the potential of deserving students by awarding scholarships of up to Rs.7 crore.
ABOUT
CGC JOSH
CGC Jhanjeri believes that higher education is one of the best investments a student can make, and that any financial setback should not deter them from achieving their goals. As a result, we've created CGC Josh, a scholarship test that awards financial aid to students interested in studying Engineering, Management, Commerce, Law, Computer Application, Journalism, and Sciences at CGC Jhanjeri.
Courses On
Offer
Journalism & Mass Communication
B.A Journalism & Mass communication
Bachelor of Science
B.Sc. Agriculture (Hons.)
B.Sc Multimedia
Applied Health Sciences
B.Sc. Medical Laboratory Sciences
B.Sc. Medical Laboratory Sciences LEET
B.Sc. (Hons.) Nutrition & Dietetics
Law
LLB
BA LLB
B.Com. LLB
BBA LLB*
Pharmacy*
B.Pharmacy
D.Pharmacy
Management
BBA
Computer Application
BCA
Engineering
B.Tech CSE
B.Tech LEET
B.Tech ECE
B.Tech ECE LEET
B.Tech ME
B.Tech ME LEET
B.Tech Civil
B.Tech Civil LEET
B.Tech. AI&ML
B.Tech AI&ML LEET
B.Tech. AI & Data Science
B.Tech. AI & Data Science LEET
B.Tech. Robotics & Artificial Intelligence*
Commerce
B.Com. (Hons.)
Scholarhip
Guidelines
Each academic year, the student must maintain an acceptable cumulative score.
Other factors considered for giving the scholarship include past academic scholarship awards, achievement in extracurricular activities, and financial difficulty of the worthy candidate.
All qualified students must complete and submit the scholarship application form by the deadline.
Additional information may be considered by the selection committee if it is judged necessary.
The student is responsible for submitting all documentation with the application for consideration.
Applications that are incomplete will be rejected without explanation.
How to Apply
To apply, go to https://www.cgc.ac.in/scholarships.
Your login ID and password will be delivered to your shared phone number through SMS when you sign up.
Complete your profile by logging in with the same ID and password as before.
The date of the examination, the curriculum, and sample papers will all be shared with you on the same dashboard once it is completed.
Attend the CGC Josh exam on the specified date and time.
The outcome will be sent to you through SMS and shown on your dashboard at https://www.cgc.ac.in/scholarships.