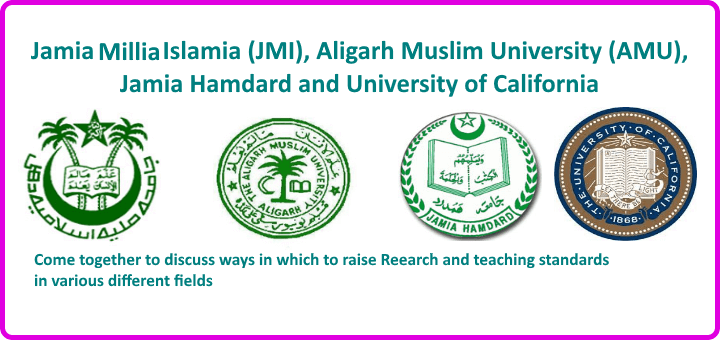 Jamia Miilia Islamia (JMI), Aligarh Muslim University (AMU), Jamia Hamdard and University of California come together to discuss ways in which to raise Research and teaching standards in various different fields at the initiative of Jamia Islamia (JMI) Chancellor and Government of Manipur, Dr. Najma A Heptulla.
Professor Talat Ahmad, Professor Seyed Ehteshaam Hasnain and Professor Tariq Mansoor, Vice Chancellors of JMI, Jamia Hamdard and AMU respectively and Professor Paul Joseph D' Anieri, Former Executive Vice Chancellor and Provost of University of California, riverside met in JMI yesterday under the Chairmanship of Dr. Najma Heptulla to discuss common areas of cooperation and possibilities of exchange of faculty and collaborative research.
Professor Paul Joseph D' Anieri said that all four universities can work together and unite their resources to file intellectual property rights so as to reduce costs incurred in it. This way we can ensure that we are able to patent our inventions, within reasonable costs he said.
The AMU Vice Chancellor, Professor Mansoor said while speaking on the occasion that the Aligarh Muslim University is fully residential one and houses 13 faculties, recently a centre on International studies has been setup.