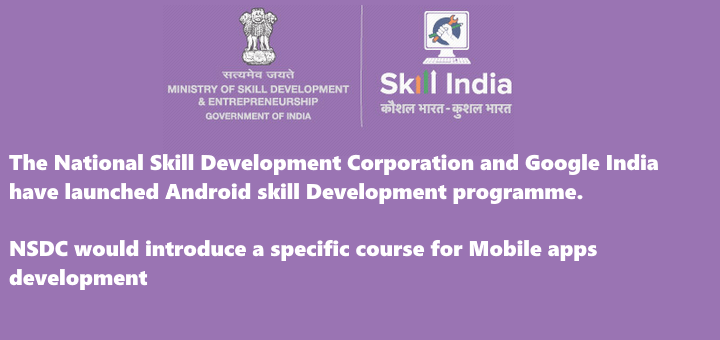 NSDC and Google India join hands and have launched Android Skill Development Programme, for mobile application development on Android OS platform
The National Skill Development Corporation (NSDC) and Google India have launched Android skill Development programme on Tuesday 8th August 2017, to impart mobile development training on Android and Web platform, to improve quality of mobile application development ecosystem in India.
With this association, NSDC would introduce a specific course to create applications for the mobile platform that can be used on smartphones and tablets running on Android operating system.
Aim of this association is to accelerate mobile skill training and development and create opportunities for youth in the country, MD and CEO of NSDC said in a statement.

Peter Lubbers, Head of Google Developer Training said "By building world class curriculum and making it easy to millions of students and developers in India, we want to contribute to skill India Initiative".
The 100 hour duration course is designed to be delivered by BSDCs partner agencies, outside formal education system. NSDC and Google India will work together to focus on up-skilling Android trainers under this programme.
National Skill Development Corporation
The National Skill Development Corporation India (NSDC) was setup as a one of its kind, Public Private Partnership Company with the primary mandate of catalysing the skills landscape in India. NSDC is a unique model created with a well thought through underlying philosophy based on the following pillars:
Create: Proactively catalyse creation of large, quality vocational training institutions.
Fund: Reduce risk by providing patient capital. Including grants and equity.
Enable: the creation and sustainability of support systems required for skill development. This includes the Industry led Sector Skill Councils.