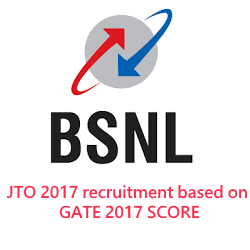 BSNL JTO Recruitment Notification by GATE 2017 Score
Bharat Sanchar Nigam Limited (BSNL) the Public Sector unit has released notification for the recruitment of Graduate Engineers to be placed as Junior Telecom Officer (JTO) from Valid GATE Open market score.
Recruitment process will start from 6th March 2017 and End on 6th April 2017.
There are Approximately 2510 vacancies, and recruitment will be held to fill up the same.
Eligibility for JTO 2017:
Interested and eligible candidates who like to apply for the post of Junior Telecom Officer (JTO) must have appeared for GATE Exam 2017 conducted by IIT Roorkee February End 2017. For which results are announced, Click here to see them.
Salary and Perks:
Salary for the Selected JTO in the IDA Pay scale Executive (E-1): Rs.16,400-4,500/- with an annual increment at 3% of basic pay plus IDA, HRA, Perks Medical benefits etc. admissible as per Company rules.
Selected candidates have to serve according to the circle in which he/she is selected, based on JRO circle based cadre. Circle wise merit will be displayed based on GATE-2017 score and there will be circle wise cut-off on the basis of which candidates will be selected.
Criterion for Selection of JTO
Selection Criteria: A Valid GATE 2017 score is the no. 1 criteria for the selection of JTO, BSNL will not hold any separate exam or interview for selection. After GATE 2017 results, BSNL will prepare a merit-list of selected candidates. Employment will be confirmed based on issuance of a final call or appointment letter to the candidate who are selected on GATE 2017 score.
Please Click Here for More about BSNL JTO Recruitment Notification by GATE 2017 Score BSNL JTO Recruitment Notification