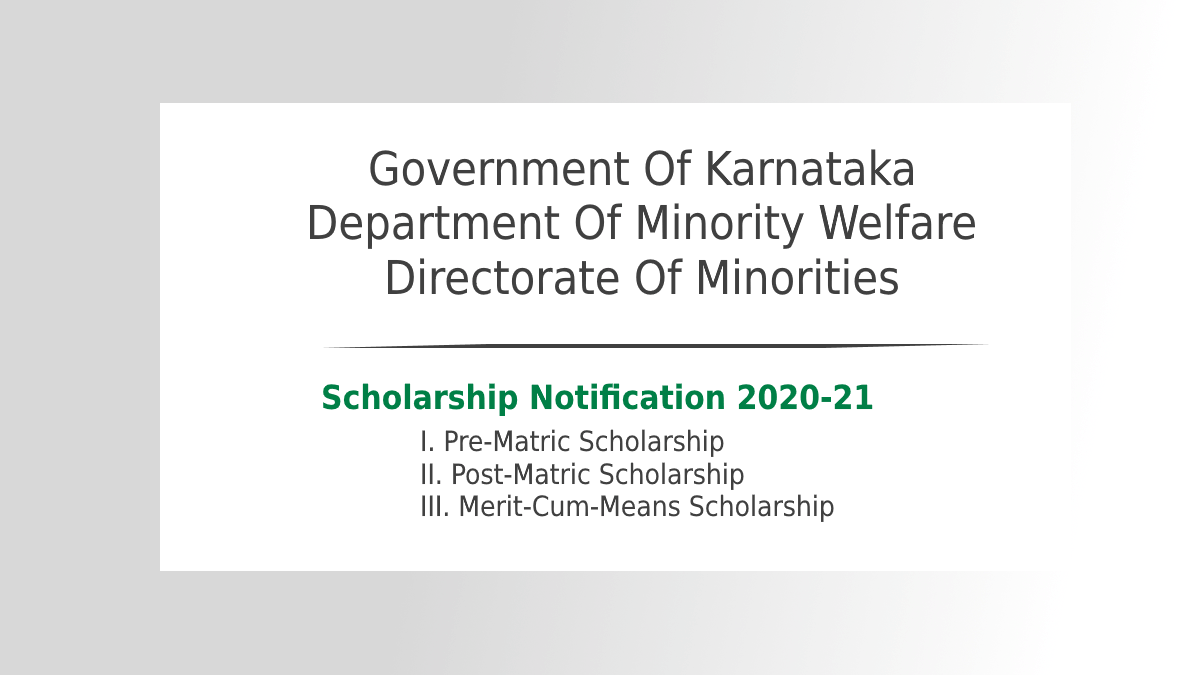 GOVERNMENT OF KARNATAKA
DEPARTMENT OF MINORITY WELFARE
DIRECTORATE OF MINORITIES
20th & 21st FLOOR, V.V.TOWERS, Dr.B.R.Ambedkar Veedhi, Bangalore 560001.
Website: https://gokdom.kar.nic.in or https://dom.karnataka.gov.in
Minorities of Karnataka: Muslims Christians Sikhs Buddhists Parsis Jains
Government of Karnataka Announcement of Scholarship for Minorities under National Scholarship Portal 2020-21, Eligible and interested candidates can apply for the scholarship at the specified website or Android app. Candidates should belong to the Minorities of Karnataka State to apply for this scholarship.
Online applications are invited from eligible Minority Students of Karnataka State.
Directorate of Minorities – Minority Welfare Department Karnataka, in association with Ministry of Minority Affairs – Government of India – New Delhi, announces Scholarship for the year 2020-21
Gok Scholarship Notification 2020-21 Details
GoK Scholarship 2020-21 Time Line
Last Date for submission of online
applications for Fresh & Renewal
scholarship by students
I. Pre-Matric Scholarship
II. Post-Matric Scholarship
III. Merit-Cum-Means Scholarship
The Last date 31st October 2020
GoK Scholarship 2020-21 Eligibility
The applicant should have secured 50% marks in the last annual Board/Class examination (Not applicable for students studying in 1st std).
Annual income of the students Parents/Guardians from all sources should not exceed
Rs.1 Lakh for Pre Matric Scholarship.
Rs.2 Lakh for Post Matric Scholarship.
Rs.2.5 Lakh for Merit Cum Means Scholarship.
Student should belong to Karnataka State.
Students of Karnataka domicile studying in other states are also eligible to apply in Karnataka.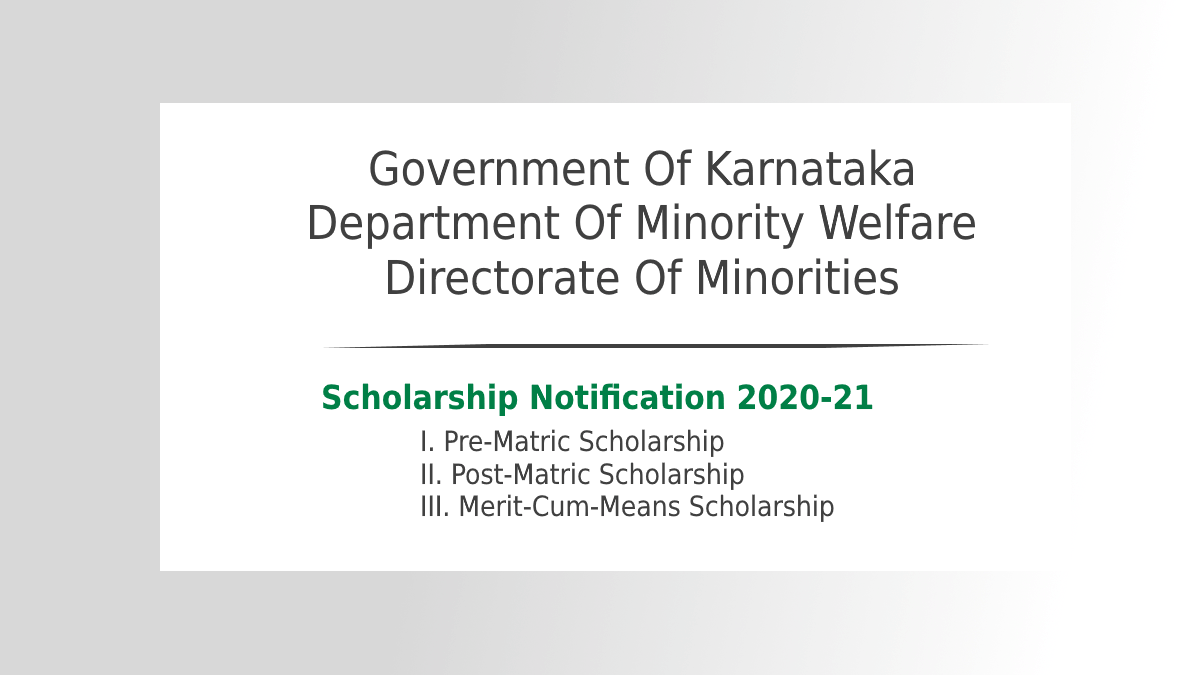 Instructions for applicants
Applicants are advised to apply online for any one of the scholarship schemes on the website of National Scholarship Portal at – www.scholarships.gov.in (a link to the site is also available at www.gokdom.kar.nic.in or www.dom.karnataka.gov.in).
List of courses coming under Pre Matric, Post Matric & Merit Cum Means Scholarship is available on Department's official website.
Applicants can also apply through Android Mobile App – National Scholarships (NSP).
Detailed Instructions/Procedure for filling in online application and Frequently asked Questions (FAQs) is available on www.gokdom.kar.nic.in or www.dom.karnataka.gov.in
Instructions for Institutes
All Universities/Institutes/Colleges/Schools, where a Minority student is studying should get themselves registered (if not done earlier) on National Scholarship Portal (NSP).
Detailed instructions for registration of Institutes and verification of applications are available on Minority Directorates official website https://gokdom.kar.nic.in or https://dom.karnataka.gov.in
https://gokdom.kar.nic.in/Documents/Schemes/Scholarship/2020-21/GOK%20Scholarship%20Notification%202020-21.pdf
To avail scholarship for Minorities in Karnataka, it is mandatory to apply both under National Scholarship Portal – NSP (GOI) and State Scholarship Portal – SSP (GOK)