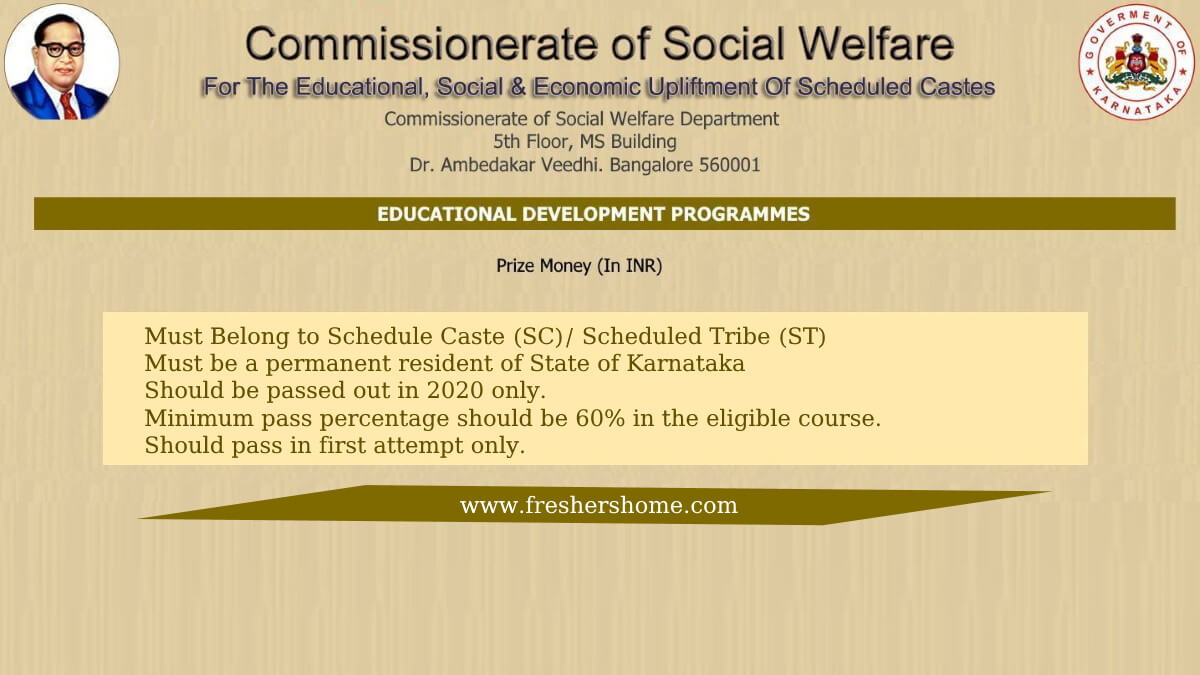 Government of Karnataka
Social Welfare Department
SSLC Prize Money For SC/ST Students 2019-20
SSLC Prize Money for eligible students Completing SSLC in First Attempt First Class 2019-2020 for Schedule Caste (SC)/ Scheduled Tribe (ST) Students of Karnataka
The funds will be directly deposited into the bank accounts of Scheduled Caste students who have scored 60% to 74.99% and over 75% marks in the SSLC examination in the academic year 2019-20. So, students have to attach the Aadhaar number to their bank account. Visit www.sw.kar.nic.in for more details.
Eligibility of the applicants for SSLC Prize money:
Must Belong to Schedule Caste (SC)/ Scheduled Tribe (ST)

Must be a permanent resident of State of Karnataka

Should be passed out in 2020 only.
Minimum pass percentage should be 60% to 74.99% in the eligible course.

Should pass in first attempt only.
Required Documents for SSLC Prize money for SC/ST Students 2019:
SSLC Registration number.
Aadhaar No./ UIDAI No and name as in your Aadhaar.
RD Number of Caste Certificate
Aadhaar linked bank details (A Pass book)
SSLC Marks Card Scan copy ( Size 100KB)
Applicants recent passport size photo(20KB)
What are the Steps to apply online?
Step 1: Candidates willing to apply should visit the official website https://sw.kar.nic.in/ Click on SSLC Prize Money
Step 2: Select the Online application for SSLC Prize money 2019 only
Step 3: Select SSLC Board Type and Caste Type, Enter SSCL Registration Number Click Next
Step 4: Fill the required application form, upload the documents that are required.
Step 5: Submit the application form, and note down the details.
Social welfare department contact details:
Commissionerate of Social Welfare Department
5th Floor, MS Building
Dr. Ambedakar Veedhi. Bangalore/Bengaluru 560001
Fax No.: 080-22353757
Helpline: 08022634300
Last date for SSLC prizemoney 2020
Last date for submission of online application for SSLC Prize money is 3.10.2020
Visit here for Post Matric Prizemoney scholarship for SC/ST
SSLC Prizemoney FAQs
When is SSLC Prizemoney 2020 start
SSLC Prize money last year was on July, but this year due to Lockdown, the date is not announced yet.
What Pass percentage required?
Can other communities claim benefits?
Only Students belonging to SC/ST Community are given Prizemoney
Can I pass in 2nd Attempt and get prizemoney?
Only Students passing in first attempt and 1st class are eligible.
Is Aadhaar card compulsory
Yes Aadhaar card is required and should be linked with the Bank Account.